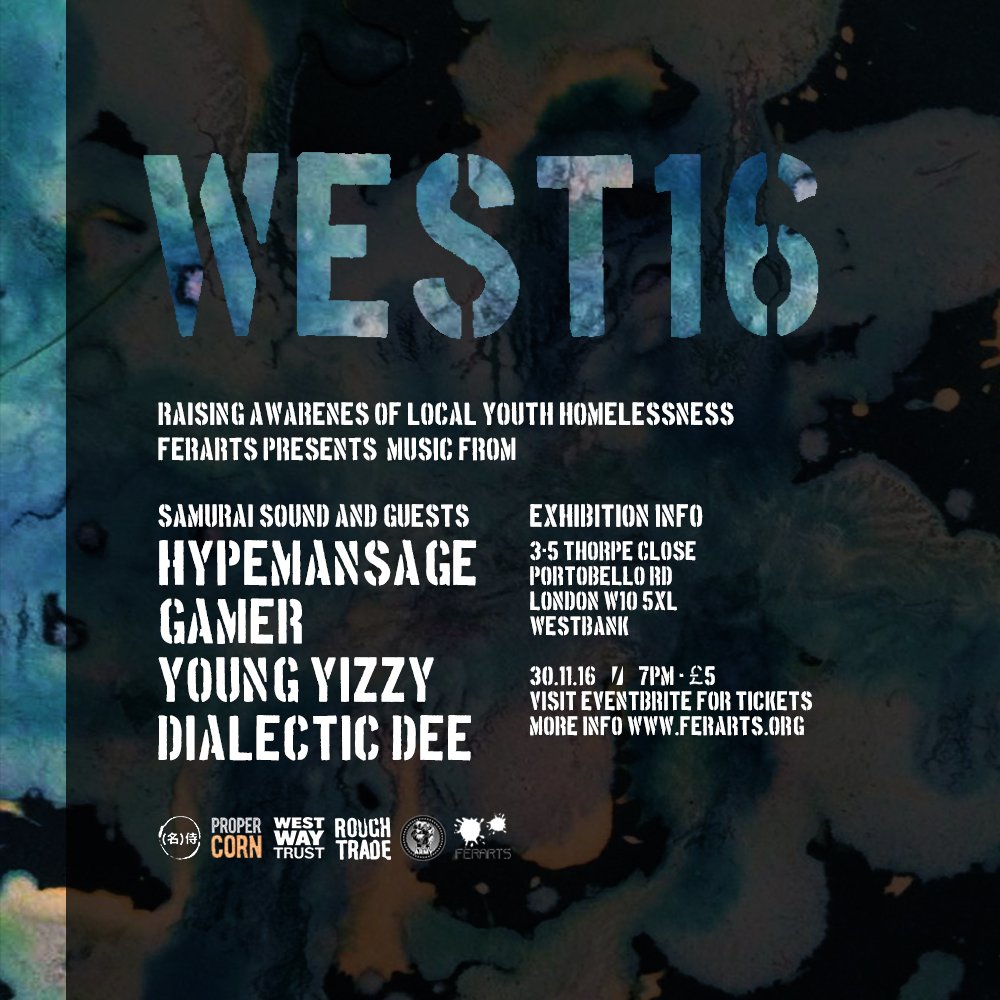 #WEST16 – "a fundraising public exhibition and silent auction… we aim to raise awareness of Youth Homelessness and reach more young creatives interested in enriching careers in the creative industry." – (Fer Arts)
Samurai Sound provided music for #WEST16 – a  charity collaboration between Fer Arts & New Horizon Youth Centre. It was hosted at The Westbank Art Gallery.
Its goal to raise funds and awareness for the overlooked issue of youth homelessness  was met; the quality of creativity and modern artistic talent was supported by touching stories and insights throughout the night.
Dialectic Dee (@DialecticDee) opened the evening, her touching spoken word performance gave an alternative voice to youth pop culture – mixing humour, wordplay, satire and a very personable creative perspective, she engaged listeners to challenge the on going social issues we can easily ignore.
New Horizon Youth Centre is a charity and day centre for people aged between 16 and 21 who are homeless or vulnerable. Kanivoh @KanivaOH was one of the acts to perform – he told his story of homelessness which highlighted the growing issue of the homeless young people not fitting the stereotype. His music proved the power of the arts in charity, as his music took him into housing and was the start of a career.
Hypeman Sage @HypeManSage – one half of Subculture Sage debuted some new tracks for a beautiful set. Later performance in the night also came from Young Yizzy @official_yizzy.
S/O to @KanivaOH for telling his story last night at #WEST16 pic.twitter.com/75LWmn7o9Y

— Samurai Sound (@SamuraiSoundUK) December 1, 2016
Great start for a lot of artists last night! Inspiring other young creatives! s/o to the all artists who made it possible! #WEST16 https://t.co/gHLeACFsIZ

— FerArts (@_FerArts) December 1, 2016
Got a preview of some new stuff @HypeManSage has been cooking up at #WEST16 sounding 👌🍽 pic.twitter.com/91p7ra2Sqh

— Samurai Sound (@SamuraiSoundUK) December 1, 2016
Big Up @Official_Yizzy holding it down last night at #WEST16 #GrimeKidTakeover💯👊 pic.twitter.com/h5yjCaXfLK

— Samurai Sound (@SamuraiSoundUK) December 1, 2016